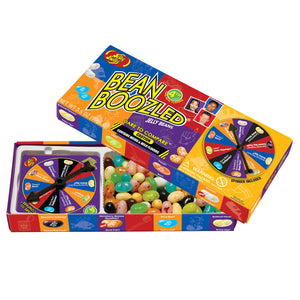 Jelly Belly
Bean Boozled Spinner Box
Regular price
$5.00
$0.00
It's a box of candy and game all in one! Use the spin wheel to decide what bean you eat. Will it taste great or gross?

Bamboozle the kids, family, friends, or just about anyone, with the Jelly Belly BeanBoozled® Gift Box that's a game and a candy all in one.

Take the dare with the spinner wheel, then pick the jelly bean in the color the spinner lands on. It's a dare for intrepid jelly bean eaters to take their chances on tasting lookalike wild or mild flavors. If you happen to get a Booger-flavored bean instead of Juicy Pear - you've been BeanBoozled! Double and triple dare adventuresome players. Each 3.5-oz. box measures 7 ¾ x 1 x 3 ½ and includes the BeanBoozled jelly beans and a colorful spinner.

New this year, Jelly Belly BeanBoozled jelly beans 4th Edition line introduces two new flavor pairings to the wild mix: Dead Fish and its lookalike Strawberry Banana Smoothie, and Spoiled Milk with its identical partner Coconut. There's only one way to tell these jelly beans apart, take the challenge.   
Flavors in the mix include:
       Baby Wipes - Coconut
Stinky Socks - Tutti-Fruitti
Lawn Clippings - Lime
Rotten Egg - Buttered Popcorn
Canned Dog Food - Chocolate Pudding
Booger - Juicy Pear
Moldy Cheese - Caramel Corn
Barf - Peach
Toothpaste - Berry Blue
---
More from this collection