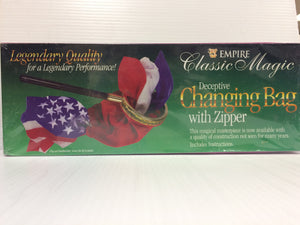 Madhatter Magic
Changing Bag with Zipper P&L style
Regular price
$27.00
$11.00
Not since P&L has such a beautiful little Change Bag been available. While this Change Bag is light in weight compared to the original P&L its look and style are fathfully reproduced in this wonderful prop.
Soft red velvet bag, brass rim, and matching interior make this a pleasure to use. Simply show the bag inside and out. Unzip the bottom of the bag and let the spectator see completely through the bag. Now, place some small silk hanks into the bag and viola! They change into an American Flag, a multi-colored silk hank or even a sock!
This bag can be used to produce, exchnage and/or vanish small objects.
Bag measures 4.5" wide by 8" long; overall length is 14"
Comes complete with instructions.
 Location: Counter 5
---
More from this collection