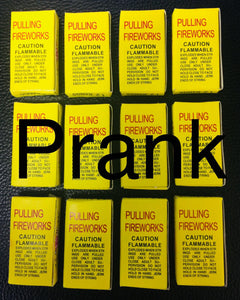 Madhatter Magic
144 Booby Traps Wedding poppers Perimeter Alarms pull pops Funny Pranks
Regular price
$0.50
Sale price
$1.00
LET THE PRANKING   BEGIN!!!!!!!! Hey 
50 cents each 
Pulling tricks are also known as pulling fireworks or booby traps. They are basically pull-string firecrackers. Each end of the pulling trick has a length of string so here's where the booby trap capabilities come into play. Tie a bicycle to a fence for example. When the victim comes to get his bike, he'll get a very loud surprise. You can add more string to the booby traps of course and also tie several together. Use these to rig up house doors, kitchen cabinet doors or drawers, tools on a bench, helmet to a motorcycle, chair legs to a table, anything that can be tied together. Or just use them as firecrackers without the hazard of fire from lit fuses.
Caustion Flammable these Explode Requires 
adult surpervision do not Hold close to Face 
or hold in Hands. 
 Location: E4
---
More from this collection