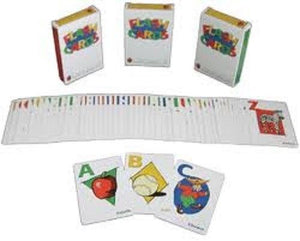 Creative Magic
Creative Magic Memorized Deck
Regular price
$20.00
$10.00
Creative Magic proudly introduces the most innocent looking line of trick decks ever!
Disguised as simple children's alphabet cards, yet printed and cut to the high standards of the U.S. Playing Card Company, these decks are a must have for kids show performers, mentalists, gospel magicians, or even a close-up magician looking to add some innocence and creativity to his repertoire.
Not only can you still perform all the classics with a twist (ambitious card, card on ceiling, torn and restored cards, and so on) but utilizing the kid's alphabet cards aspect of Flash Cards opens the doors to creating new routines, new jokes, and new tricks altogether.
 
Memorized Deck
Quite possibly the easiest to learn memorized deck ever!
Can you detect an order form these cards? Kangaroo, Strawberry, Astronaut, Policeman, Ball, Dog, Rabbit, Baker.....
We bet you can't and neither will your audience.
---
More from this collection