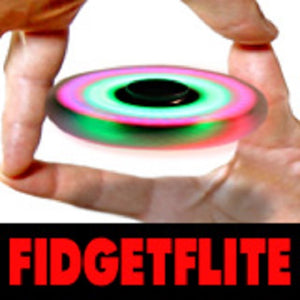 Madhatter Magic
Fidget Flite by Fearson
Regular price
$10.00
$6.00
The fidget spinner is the hottest toy out there and is quickly becoming one of the most familiar and curious items around. Imagine the reaction you'll get being the first on your block with a real-world FLYING FIDGET SPINNER! Fidget Flite is the mod that makes the impossible a reality!

Don't think you can trick people into thinking you have a flying fidget spinner by hanging your hand spinner on the end of a piece of sewing thread or fishing line. That might work on youtube but in real life, only Fearson's Fidget Flite can be demonstrated to float CLOSE-UP in the REAL WORLD... right under their noses!
 
The spinner starts out on a table, in a box or in your pocket with NOTHING ATTACHED TO IT. You place the spinner on a spectator's hand so they can see how much it weighs. A funny bit of business is explained on the tutorial that gives you the perfect excuse to do this without arousing suspicion. 

You activate the lights on the spinner and set it spinning in the usual way. Then suddenly, with a flick of your fingers it leaves your hand and hovers in the air momentarily before returning to your fingertips, still spinning! Another flick and the spinner FLIES from hand to hand, leaving their HEADS SPINNING!

As a finale it can even pass though a hoop formed by your fingers proving NO CONNECTIONS WHATSOEVER!

Everything you need to modify any normal lighted fidget spinner is included in this package. The handling is SUPER SIMPLE, anyone can do this.
 
Modify an ordinary spinner in under 5 minutes!
Spectator can see and feel nothing attached!
Easy to Make and Do Again and Again!

Whether you're going back to school and want to blow your friends minds or just want to show the kids you're the hippest grandpa in town, this is the jedi fidget spinner mod you're looking for!
Q. I'm not very handy, does this require cutting, gluing, or special tools?
A. Everything you need is included in the kit, no technical knowledge or special tools are required.

Q. Does this use Fearson's thread hookup?
A. No, that's not what this is.

Q. Will this work with any fidget spinner?
A. It has worked with every spinner we tested, there may be some that are too heavy to defy gravity. A plastic lighted spinner is recommended... they're EVERYWHERE!
Kit comes complete with comprehensive online video tutorial and everything you need to make your fidget spinner fly!