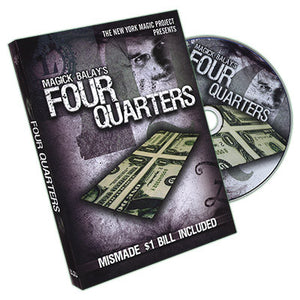 Madhatter Magic
Four Quarters
Regular price
$31.00
$0.00
Magick Balay is truly one of New York City's great magicians. A long-standing fixture of the New York magic community, Magick has been entertaining audiences for his entire life. Magick has worked as a magic demonstrator for some of Manhattan's top magic shops and is also in constant demand as a private entertainer. He has appeared in Reel Magic Magazine and on Marco Tempest's Virtual Magician.

The New York Magic Project is proud to bring you Four Quarters, Magick's take on the classic Mismade Bill effect. You borrow a dollar bill from an audience member. At the tips of your fingers, with the audience carefully studying your every move, the bill is folded into a small packet. When the bill is unfolded, it has turned inside out! The audience can examine the bill. You then re-fold the bill and return it to its original state.

There is nothing more organic or amazing than magic with borrowed money. Watch Magick as he takes his unique brand of conjuring onto the streets of Manhattan and blows people away. Then join him for an in-depth explanation session, including tips on motivation, audience connections, and more. Filmed in high definition and featuring Dolby Digital sound, the 4Q DVD will have you performing this amazing effect in no time. The DVD even includes a Mismade Dollar Bill, made from real US currency. The bill is truly miscut, with no tape or glue involved.
Includes Genuine Miscut Dollar Bill
Live, Unstaged Street Performances
In-Depth Teaching with Multiple Angles
Filmed in High Definition
Dolby Digital Sound<.LI>
---
More from this collection