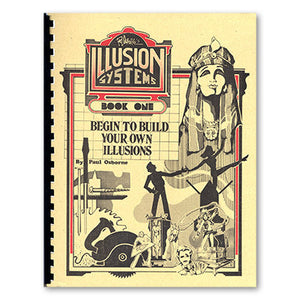 Murphy's Magic
Illusion Systems #1
Regular price
$40.00
$0.00
If you've ever wanted to build your own stage magic and illusions, this is the book to get you started. It's excellent for the beginning craftsman.
Over eighty pages of information, building tips, what tools to buy, how to paint and even sub-contract work. We assume nothing and start you at the beginning. It's loaded with photos as well as fully written and illustrated by Paul Osborne.
As a bonus, you receive full building plans for seven easy-to-construct illusions:
THE FLASH APPEARANCE
NEW PALANQUIN
THE QUEEN'S CUT
CHEST OF NEFERTARI
MODERN CABINET
COSTUME TRUNK
THE CHEST OF ENCHANTMENT.
This will be a valued addition to the library of any collector, builder or performer.
Pages
: 83 - 8.5" x 11" - Softcover - Black and white illustrations
---
More from this collection