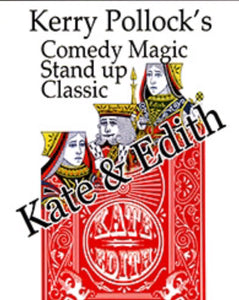 Bob
Kate & Edith
Regular price
$30.00
$0.00
Without DVD instustions and Cards Only! 
Stand up comedy magic classic!
Kerry Pollock and Doc Eason have just released this long out of print routine, one of the funniest routines in magic.
It features rhymed patter, which will have the audience rolling on the floor. The routine has been thoroughly audience tested in comedy and magic clubs all over the United States.
During the routine the King of Hearts is removed from between the Queen of Spades and the Queen of Clubs three times. Each time he manages to reappear. Finally, he vanishes in a cloud of laughter!
You receive most complete tutorial possible. Scripts from Kerry Pollock, Dan Garrett, Doug Slater, RJ Owens and Doc Eason
Comes with four Jumbo Cards, including the special gimmick. The cards are made of sturdy plastic, so they should last a lifetime