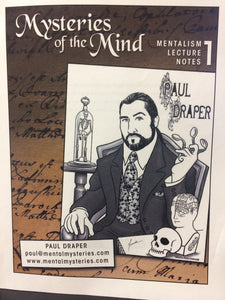 bob
Mysteries of The Mind by Paul Draper
Regular price
$15.00
$0.00
Mentalist Lecture Notes 1
Paul's Definition of Magic:
As an anthropologist and full time performing magician, I have come to believe that throughout time performance magic has not been only about the physics or the physical process.  It is instead, about the nature of the observer.  Not the outer reality, but the inner reality.
As Magician's we do not make magic.  Magic does not exist in the tangible world.  However, magic is real and it exists.  Where does it exist you ask.  Magic exists as an event experienced in the mind of the spectator.  Only there is magic real, only there can magic happen.  Not in your hands, but in their minds.  Only there can we find real magic.