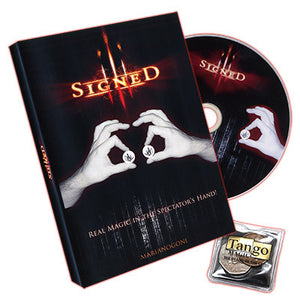 Magic City
Signed by Mariano Goni
Regular price
$86.00
$0.00
Mariano Goñi has done it again!

The most straightforward signed coin transposition between you and two spectators. The most powerful and memorable magic is the one that happens in the hands of the audience. A half dollar is examined or borrowed and initialed on each side by two spectators.

One spectator holds a purse from the start, the other is given the signed coin and closes the hand. He sees the signed coin in his hand before closing it.

At that moment, the magic begins: The magician makes a quarter dollar transpose with the signed coin... now the spectator opens the hand, he has the quarter, and you have the signed coin.

But that's NOT ALL!

Now you point to the second spectator holding the purse, and making a gesture, the signed coin vanishes from you hand only to reappear inside the purse or wallet. The spectator HIMSELF removes the coin and checks the "Signatures"!

Important Points:
No sleeving.
Carry it in you pocket.
Coin can end up in your wallet, or an envelope.
Spectator can keep the coin as a souvenir.
Featuring the Gravity Switch by M.G.
Easy to master.
Complete with american coins.
Standing or Sitting, two routines explained.
BONUS routine: "Laser Trip", where the signed coin travels from a laser beam to a wall. A must see!

Comes complete with custom gimmicks engineered by the Premier Coin Maker Tango Magic.

Running Time Approximately: 1hr 20min
---
More from this collection