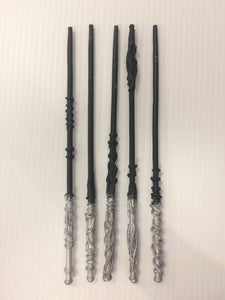 Titan Magic Shows and Party Rentals
Wand Utility Silver & Nightshade
Regular price
$5.00
$0.00
Madame Swartzmeyer Collection 
8 3/4 to 9in utility wand. Great for every day spells and Common Tasks. 
This light weight collection is just what the witch or wizard needs for everyday work without buying a Used wand.  These are Custom Made with only the best local Cores.
Size and design change as Madame Swartzmeyer makes no 2 wands the same.
Made of Muggle Asian utility sticks and hot binding agent painted and crafted for top performance.  
Enjoy these easy to carry utility wands and happy spells to all.